Supplies with the theme Hartberger Euro-System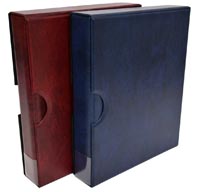 Euro-System, the system for storing everything that is flat, such as:
Stamps Postcards Banknotes Telefoncards Playing cards, Jokers Stocks etc. etc. Binders and slipcases:
Same as the IMPORTA V- binders and slipcases 4-rings with wide back and back window formaat buitenafmeting 325 x 270 mm (hxb) Available in blue and red Pages:
Same as the IMPORTA V- pages Softener and acid free hard folie External dimensions 316 x 238 mm (hxw) Available in various formats
Read More
There are no products matching the selection. Try a different sorting/filtering method.