This week (until wednesday) we give 10% discount on stamps from Brazil.
» click here «
Added
94
items yesterday and
4710
over the last seven days.
176943

currently in stock
The various forms of art have played a very important part in the history of mankind. Britannica Online defines art as "the use of skill and imagination in the creation of aesthetic objects, environments or experiences that can be shared with others". Thus, works of art have existed for thousands of years, since man first learned to use his hands to make things. The development of the numerous different branches of what we consider to be art, among them film, music, literature, sculpture, photography and painting, has been incredible. Over the centuries, people have been fascinated by the creation of art in all its forms and the importance of art in our lives can not be overestimated.
Antique objects are collected by millions of people worldwide and many people possess an object that belongs to a bygone age. Some objects of art are extremely rare or collectible and can be worth many millions of pounds.
View topic Art & Antique Objects
A hedgehog is a mammal. They are easily recognized by their spines, which are hollow hairs made stiff with keratin. Their spines are not poisonous. Hedgehogs are primarily nocturnal. They sleep for a large portion of the day, generally under cover of bushes or in holes in the ground. Depending on the species, the gestation period is 35-58 days. The average litter is 4 or 5 newborn. A single hedgehog can keep an average garden free of pests by eating up to 200 grams of insects each night. They eat also frogs and toads, small snakes, bird eggs, carrion and some fruit. Romany people eat hedgehog meat. They believe it has medicinal value, especially the blood and the fat. During the 1980s, hedgehog-flavor crisps were introduced in Britain.
View topic Hedgehog
Science is a systematic enterprise that builds and organizes knowledge in the form of testable explanations and predictions about the universe. In an older and closely related meaning, "science" also refers to a body of knowledge itself, of the type that can be rationally explained and reliably applied. A practitioner of science is known as a scientist.
View topic Science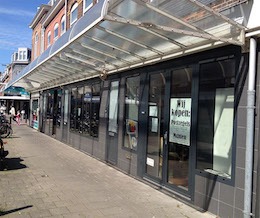 Welcome to our shop in Haarlem. Our hostess will welcome you with a cup of coffee. The opening hours are Wednesday to Saturday 10 -17h.
Haarlem is our headquarters. It is where owner Rob Smit began selling stamps in 1983. Over the years PostBeeld has expanded to include two adjacent buildings and now this is, with over 200m2, our largest store. Our headoffice is also situated in Haarlem. Here our websites are maintained and part orders from other locations merged into one and sent to our customers. The shop is located at 17 Kloosterstraat. A large public car park (Cronje) is a short walk from the store. Haarlem railway station can be reached on foot in 10 minutes. Our headoffice is located at Emrikweg 26B.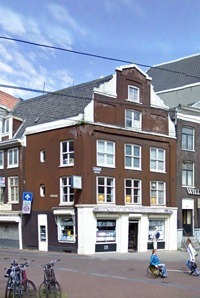 In Amsterdam we operate in close collaboration with the NPMH (Nederlandsche Postzegel en Muntenhandel). Opening Times: Tuesday / Saturday 10.00-17.00 (incl.)
The company's shop in Amsterdam (Opening Times: Tuesday / Saturday 10.00-17.00 (incl.)) is located in the historic heart of philatelic Netherlands. On the corner of the Nieuwezijds Voorburgwal and Rosmarijnsteeg, by the stamp market. Opposite the Amsterdam Museum, on St. Luciënsteeg, is the direct link to the Kalverstraat.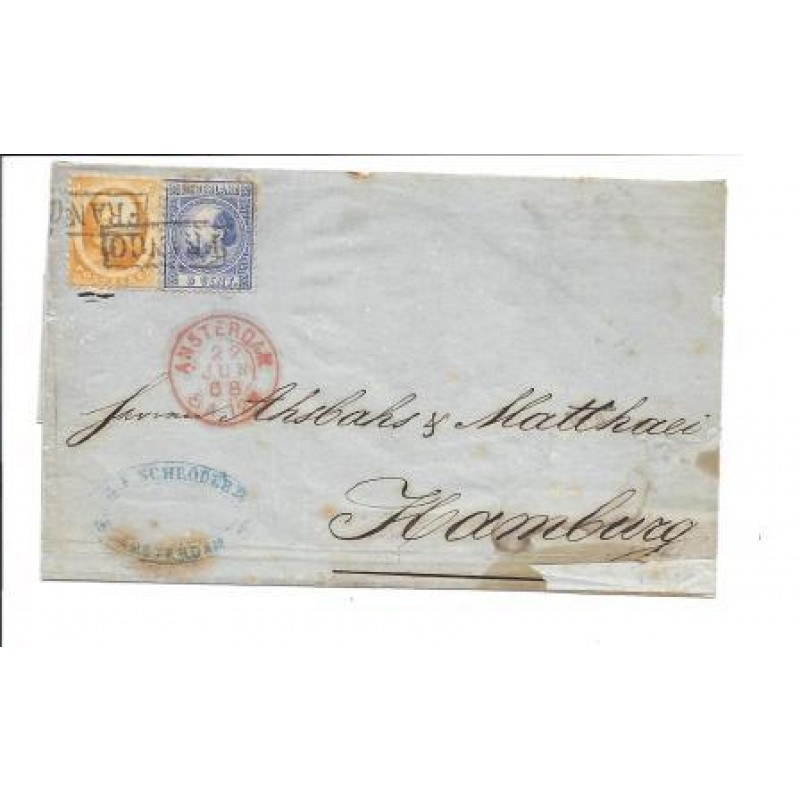 This store specialises in Postal History, coins, old postcards and stamps of the Netherlands and overseas territories, including cancellations. The postal history department is especially large with many special letters and postal stationery. Besides the specialities there is a large stock of stamps from many countries and always a nice assortment of collections. Furthermore, a range of albums, catalogues and other supplies for stamps and coins is available.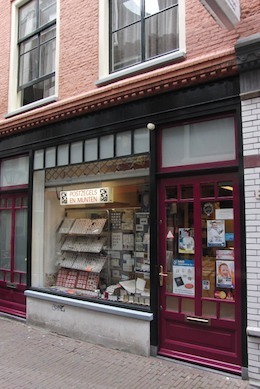 Welcome to our shop in Leiden, where Jaap is your host. The shop is open from Wednesday to Saturday (inclusive), from 10.00 to 17.00 (other days by appointment only).
De Leidse Postzegelhandel is one of the oldest stamp shops in The Netherlands, in business since 1941,and situated in Vrouwensteeg 3 in the heart of the old centre of Leiden. In October 2014 ownership transferred to PostBeeld, thus becoming the third PostBeeld store. The shop will continue to operate under the old name we respect so much with the addition of PostBeeld in the title to become "PostBeeld, de Leidse Postzegelhandel". Vrouwensteeg is a street off the Haarlemmerstraat.
In this shop you can find albums, storage systems, catalogues etc. Both new and second hand. There is always a good stock of stamp books, with prices from a few euros to those worth hundreds. These books can be viewed only in our store. Unlike the rest of PostBeeld's stock, they are not available to view via the internet. The shop also has a fine stock of coins and banknotes.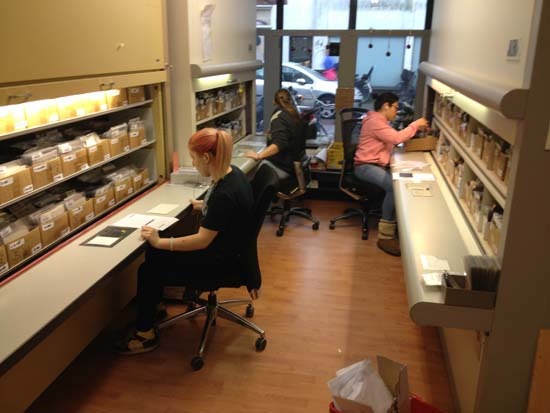 Behind the scenes we work with great care to process your order. At our Haarlem headquarters there is a lot of activity. About 25 people work here on two locations dealing with customer orders and administration.
Although our stock is held at around ten different locations in Europe, the Haarlem shop holds the greatest part of PostBeeld's stock and the purchasing department is also based here. If parts of an order are located elsewhere, everything is gathered together in our Haarlem office before being despatched to the customer.
Our translators and customer service department staff are also based in Haarlem. In the photograph above orders are picked from our stock. Below are some behind-the-scenes PostBeeld photos.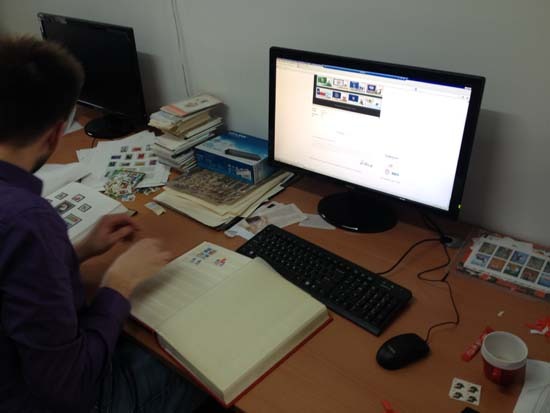 Processing a purchased collection.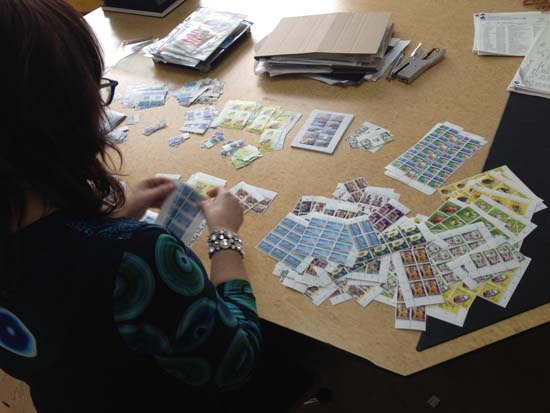 Processing new issues for subscribers in our online store.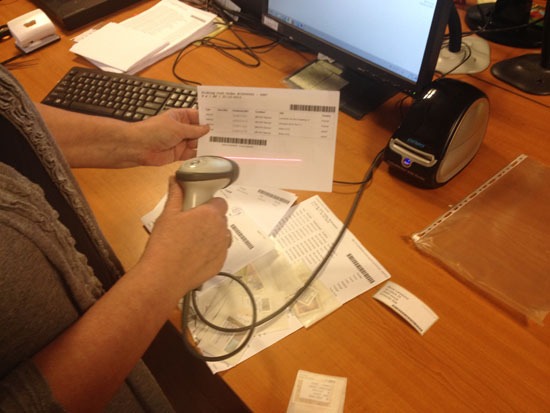 Checking that all partial orders are present is done via barcodes. They are then combined and shipped to the customer.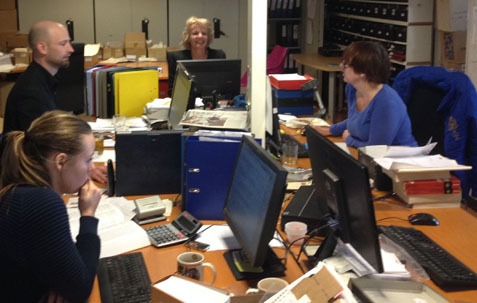 Here work is carried out on the website, translation and administration.