Now: 10% discount on all stamps from The Netherlands! » click here «
Added
880
items yesterday and
5773
over the last seven days.
176649

currently in stock
Edgar Degas was born in Paris in 1834, the son of a wealthy citizen and banker. In adulthood he abandoned the original form of his name, De Gas, as he found it somewhat pretentious. He became famous as a painter and illustrator in the impressionist style. In his later years, as a result of his deteriorating eyesight, he concentrated more on sculpture, and gained an equally remarkable reputation.
The work "Washerwoman with toothache", owned by the Louvre in Paris, was stolen in 1973 whilst on loan to the depot museum of Le Havre in Normandy. In November 2010 the painting was discovered, after nearly 40 years, at an auction in New York. An employee of the Le Havre Museum spotted the work in a Sotheby's auction catalogue and tipped off the authorities. Consequently, Sotheby's withdrew the work from the auction. Degas painted the canvas around 1870-1872. The estimated auction value of the painting in 1973 was 248,000 to 319,000 euros.
View topic Edgar Degas
Athletics is a word mostly used to describe certain sports where people compete with each other. These sports categories are normally either 'Track' events - where people race against each other over various measured distances (mostly inside a stadium), or 'Field events - such as javelin, discus and hammer throwing, pole-vaulting and the long- and high-jump. Cross-country and road running and road walking are also athletics events.
The World Championships for Athletics are held every two years and most countries' top athletes are able to compete against each other for the chance to become World Champion. Two years after each World Athletics Championship event athletes may have the opportunity to compete in the even more prestigious Olympic Games.
View topic Athletics
Tennis is a racket sport that can be played individually against a single opponent (singles) or between two teams of two players each (doubles). Each player uses a tennis racket that is strung with cord to strike a hollow rubber ball covered with felt over or around a net and into the opponent's court. The object of the game is to play the ball in such a way that the opponent is not able to play a valid return. The player who is unable to return the ball will not gain a point, while the opposite player will. Our catalogue contains about 650 tennis related stamps.
View topic Tennis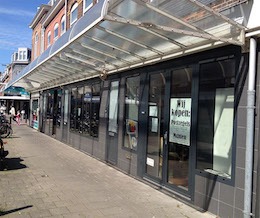 Welcome to our shop in Haarlem. Our hostess will welcome you with a cup of coffee. The opening hours are Wednesday to Saturday 10 -17h.
Haarlem is our headquarters. It is where owner Rob Smit began selling stamps in 1983. Over the years PostBeeld has expanded to include two adjacent buildings and now this is, with over 200m2, our largest store. Our headoffice is also situated in Haarlem. Here our websites are maintained and part orders from other locations merged into one and sent to our customers. The shop is located at 17 Kloosterstraat. A large public car park (Cronje) is a short walk from the store. Haarlem railway station can be reached on foot in 10 minutes. Our headoffice is located at Emrikweg 26B.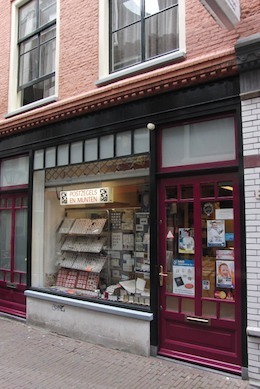 Welcome to our shop in Leiden, where Jaap is your host. The shop is open from Wednesday to Saturday (inclusive), from 10.00 to 17.00 (other days by appointment only).
De Leidse Postzegelhandel is one of the oldest stamp shops in The Netherlands, in business since 1941,and situated in Vrouwensteeg 3 in the heart of the old centre of Leiden. In October 2014 ownership transferred to PostBeeld, thus becoming the third PostBeeld store. The shop will continue to operate under the old name we respect so much with the addition of PostBeeld in the title to become "PostBeeld, de Leidse Postzegelhandel". Vrouwensteeg is a street off the Haarlemmerstraat.
In this shop you can find albums, storage systems, catalogues etc. Both new and second hand. There is always a good stock of stamp books, with prices from a few euros to those worth hundreds. These books can be viewed only in our store. Unlike the rest of PostBeeld's stock, they are not available to view via the internet. The shop also has a fine stock of coins and banknotes.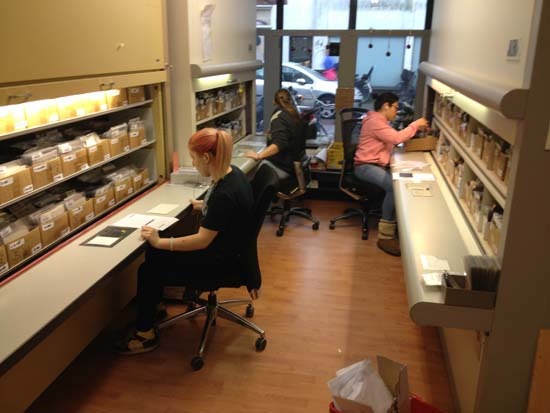 Behind the scenes we work with great care to process your order. At our Haarlem headquarters there is a lot of activity. About 25 people work here on two locations dealing with customer orders and administration.
Although our stock is held at around ten different locations in Europe, the Haarlem shop holds the greatest part of PostBeeld's stock and the purchasing department is also based here. If parts of an order are located elsewhere, everything is gathered together in our Haarlem office before being despatched to the customer.
Our translators and customer service department staff are also based in Haarlem. In the photograph above orders are picked from our stock. Below are some behind-the-scenes PostBeeld photos.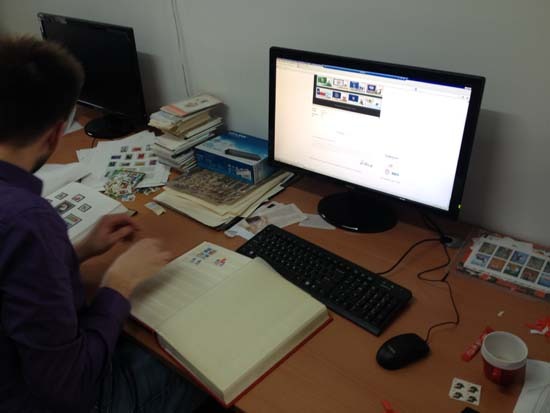 Processing a purchased collection.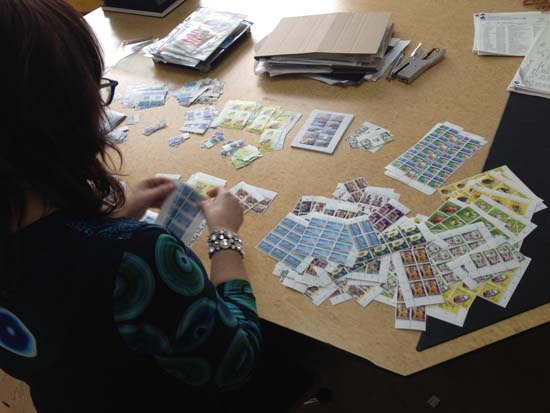 Processing new issues for subscribers in our online store.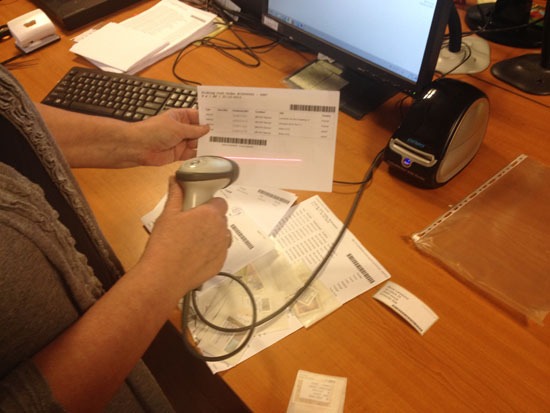 Checking that all partial orders are present is done via barcodes. They are then combined and shipped to the customer.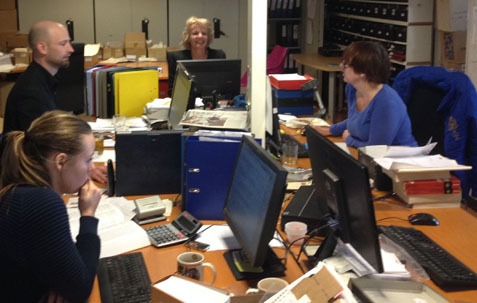 Here work is carried out on the website, translation and administration.