Now: 10% discount on all stamps with the topic Birds! » click here «
Added
905
items yesterday and
6052
over the last seven days.
176771

currently in stock
Antoine de Saint-Exupéry, (29 June 1900-31 July 1944) was a French writer, poet and pioneering aviator. He illustrated and wrote the famous children's book 'The Little Prince'.
View topic De Saint-Exupery
The rhinoceros is characterized by its large size, with all of the species able to reach one tonne or more in weight. The main difference between black and white rhinos is the shape of the mouth. They generally eat leafy material, although their ability to ferment food in their hindgut allows them to subsist on more fibrous plant matter, if necessary. Adult rhinoceros have few natural predators, though young rhino can fall prey to predators such as big cats, crocodiles, wild dogs, and hyenas. Many species are under threat of extinction as a result of hunting by man, mostly because in some cultures the horn of the rhino is highly-prized for ornamental or medicinal purposes.
View topic Rhinoceros
The word hippopotamus comes from the ancient Greek for "river horse". The hippopotamus is one of the largest quadrupeds. They have a stocky shape and short legs. Hippopotamuses are gregarious, living in groups of up to 30 animals; such a group is called a herd . A male hippopotamus is known as a bull, a female a cow, and a baby a calf. The hippopotamus is one of the most aggressive creatures in the world and is often regarded as one of the most dangerous animals in Africa. Hippos are still threatened by habitat loss and are often poached for their meat and ivory canine teeth.
View topic Hippopotamus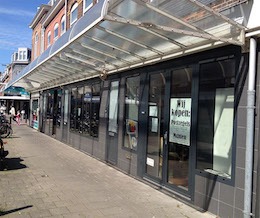 Welcome to our shop in Haarlem. Our hostess will welcome you with a cup of coffee. The opening hours are Wednesday to Saturday 10 -17h.
Haarlem is our headquarters. It is where owner Rob Smit began selling stamps in 1983. Over the years PostBeeld has expanded to include two adjacent buildings and now this is, with over 200m2, our largest store. Our headoffice is also situated in Haarlem. Here our websites are maintained and part orders from other locations merged into one and sent to our customers. The shop is located at 17 Kloosterstraat. A large public car park (Cronje) is a short walk from the store. Haarlem railway station can be reached on foot in 10 minutes. Our headoffice is located at Emrikweg 26B.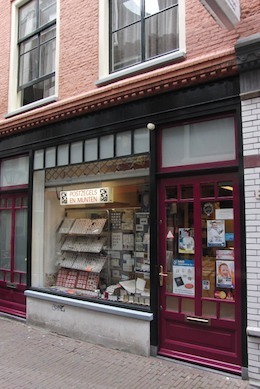 Welcome to our shop in Leiden, where Jaap is your host. The shop is open from Wednesday to Saturday (inclusive), from 10.00 to 17.00 (other days by appointment only).
De Leidse Postzegelhandel is one of the oldest stamp shops in The Netherlands, in business since 1941,and situated in Vrouwensteeg 3 in the heart of the old centre of Leiden. In October 2014 ownership transferred to PostBeeld, thus becoming the third PostBeeld store. The shop will continue to operate under the old name we respect so much with the addition of PostBeeld in the title to become "PostBeeld, de Leidse Postzegelhandel". Vrouwensteeg is a street off the Haarlemmerstraat.
In this shop you can find albums, storage systems, catalogues etc. Both new and second hand. There is always a good stock of stamp books, with prices from a few euros to those worth hundreds. These books can be viewed only in our store. Unlike the rest of PostBeeld's stock, they are not available to view via the internet. The shop also has a fine stock of coins and banknotes.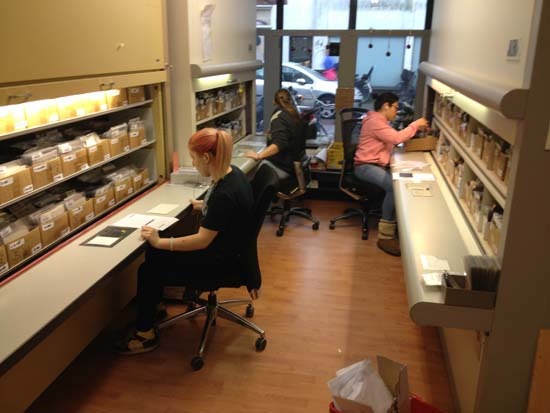 Behind the scenes we work with great care to process your order. At our Haarlem headquarters there is a lot of activity. About 25 people work here on two locations dealing with customer orders and administration.
Although our stock is held at around ten different locations in Europe, the Haarlem shop holds the greatest part of PostBeeld's stock and the purchasing department is also based here. If parts of an order are located elsewhere, everything is gathered together in our Haarlem office before being despatched to the customer.
Our translators and customer service department staff are also based in Haarlem. In the photograph above orders are picked from our stock. Below are some behind-the-scenes PostBeeld photos.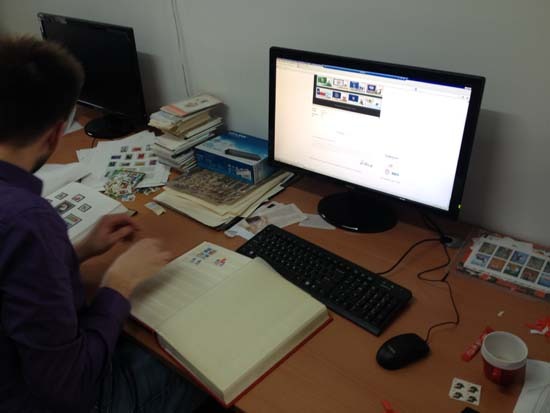 Processing a purchased collection.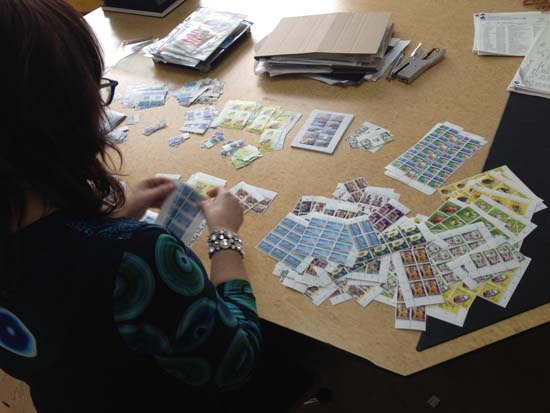 Processing new issues for subscribers in our online store.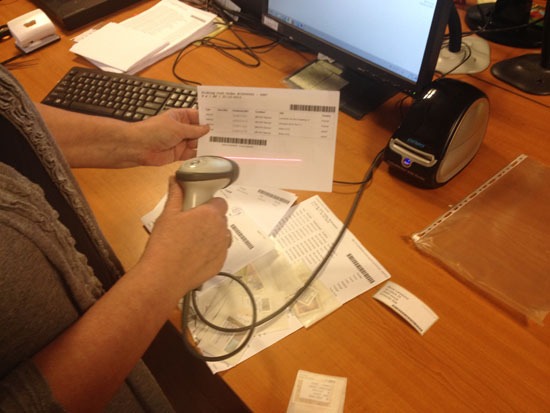 Checking that all partial orders are present is done via barcodes. They are then combined and shipped to the customer.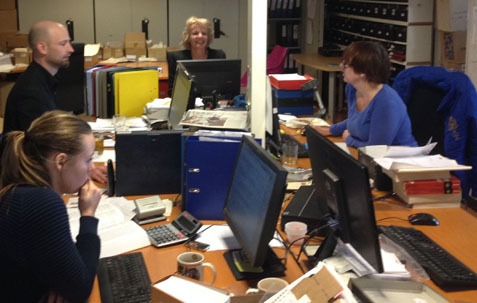 Here work is carried out on the website, translation and administration.