This week (until wednesday) we give 10% discount on stamps from Germany Federal Republic and berlin.
» click here «
Added
301
items yesterday and
5395
over the last seven days.
175302

currently in stock
Elvis Aaron Presley (born Tupelo (Mississippi), January 8, 1935 - died Memphis (Tennessee), August 16, 1977) was an American singer and actor. He is known worldwide under the alias The King of Rock 'n Roll or simply The King. Elvis is one of the most successful, influential and popular solo artists of all time. Presley's manager "Colonel" Tom Parker was a Dutchman by birth, who was actually named Dries van Kuijk. Elvis Presley died on August 16, 1977 in Memphis. The official place of death according to his death certificate was the Baptist Memorial Hospital in Memphis. He was taken there after being found unconscious in the bathroom of his home, Graceland, by Ginger Alden, his then fiancée. According to some witnesses he had actually died before the hospital's ambulance arrived.
View topic Elvis Presley
Parrots are popular as pets due to their sociable, affectionate nature, intelligence and bright colours. Some species are able to mimic human speech and imitate human voices. Along with ravens, crows, jays and magpies, parrots are among the most intelligent birds. They eat seeds, fruit, nectar, pollen, buds, and sometimes arthropods and other animal prey. Parrots eggs are white. Chicks are hatched without feathers or down. Parrots have a long lifespan, sometimes outliving their owners.
View topic Parrots
A camel is an even-toed ungulate within the genus camelus. There are two species of camel: the dromedary, or Arabian camel - which has a single hump - and the Bactrian Camel which has two. Camels do not store water in their humps as is commonly believed. The humps are actually a reservoir of fatty tissue. The average life expectancy of a camel is 40 to 50 years. The kidneys and intestines of a camel are very efficient at retaining water. A camel's urine resembles a thick syrup, and their faeces are so dry that they can be used as a fuel for fire.
View topic Camels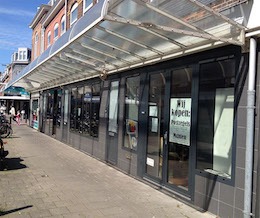 Welcome to our shop in Haarlem. Our hostess will welcome you with a cup of coffee. The opening hours are Wednesday to Saturday 10 -17h.
Haarlem is our headquarters. It is where owner Rob Smit began selling stamps in 1983. Over the years PostBeeld has expanded to include two adjacent buildings and now this is, with over 200m2, our largest store. Our headoffice is also situated in Haarlem. Here our websites are maintained and part orders from other locations merged into one and sent to our customers. The shop is located at 17 Kloosterstraat. A large public car park (Cronje) is a short walk from the store. Haarlem railway station can be reached on foot in 10 minutes. Our headoffice is located at Emrikweg 26B.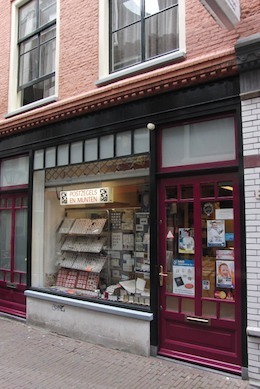 Welcome to our shop in Leiden, where Jaap is your host. The shop is open from Wednesday to Saturday (inclusive), from 10.00 to 17.00 (other days by appointment only).
De Leidse Postzegelhandel is one of the oldest stamp shops in The Netherlands, in business since 1941,and situated in Vrouwensteeg 3 in the heart of the old centre of Leiden. In October 2014 ownership transferred to PostBeeld, thus becoming the third PostBeeld store. The shop will continue to operate under the old name we respect so much with the addition of PostBeeld in the title to become "PostBeeld, de Leidse Postzegelhandel". Vrouwensteeg is a street off the Haarlemmerstraat.
In this shop you can find albums, storage systems, catalogues etc. Both new and second hand. There is always a good stock of stamp books, with prices from a few euros to those worth hundreds. These books can be viewed only in our store. Unlike the rest of PostBeeld's stock, they are not available to view via the internet. The shop also has a fine stock of coins and banknotes.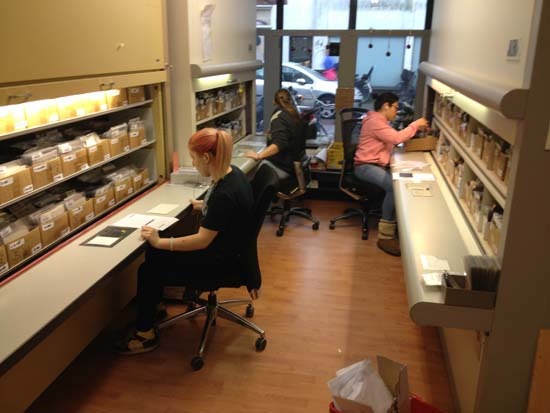 Behind the scenes we work with great care to process your order. At our Haarlem headquarters there is a lot of activity. About 25 people work here on two locations dealing with customer orders and administration.
Although our stock is held at around ten different locations in Europe, the Haarlem shop holds the greatest part of PostBeeld's stock and the purchasing department is also based here. If parts of an order are located elsewhere, everything is gathered together in our Haarlem office before being despatched to the customer.
Our translators and customer service department staff are also based in Haarlem. In the photograph above orders are picked from our stock. Below are some behind-the-scenes PostBeeld photos.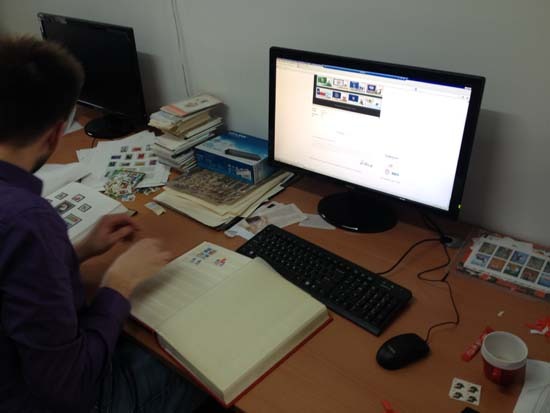 Processing a purchased collection.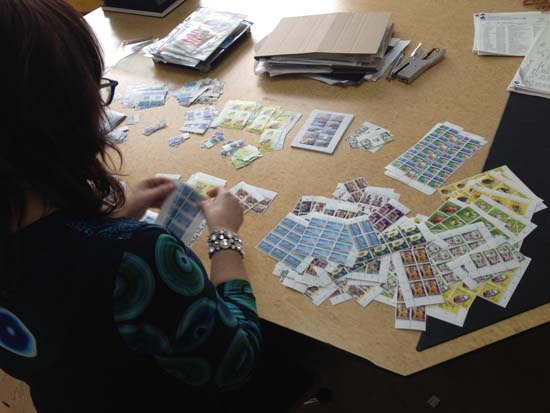 Processing new issues for subscribers in our online store.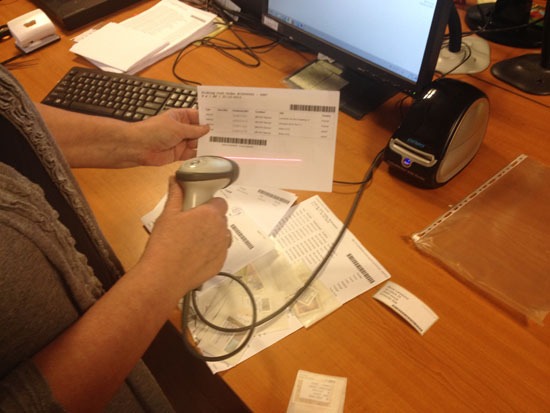 Checking that all partial orders are present is done via barcodes. They are then combined and shipped to the customer.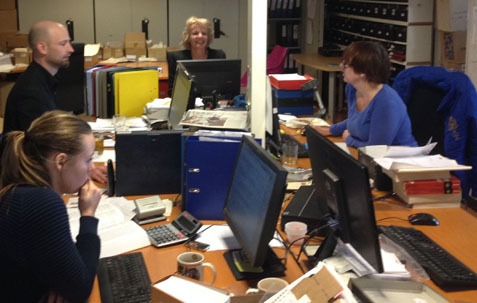 Here work is carried out on the website, translation and administration.