This week (until wednesday) we give 10% discount on stamps from Brazil.
» click here «
Added
1243
items yesterday and
4909
over the last seven days.
177087

currently in stock
Birds are feathered, winged, bipedal, warm-blooded vertebrates. There are about 10,000 different species of birds, more species than any other vertebrate. Many species are economically important, especially as a source of food acquired through hunting or breeding. Some species, particularly songbirds and parrots, are popular as pets. Since the 17th century over 120 species have become extinct because of human activities. Currently about 1,200 species of birds are threatened with extinction due to human activities, although efforts are made to protect them.
View topic Birds
The many species of monkey have varied relationships with humans. Some are kept as pets, others used as model organisms in laboratories or in space missions. Macaques are commonly used as model organisms, especially the Rhesus Macaque. In traditional Islamic dietary laws, the eating of monkeys is forbidden.
Monkey brains are eaten as a delicacy in China, Africa and South East Asia. The Monkey is the ninth in the twelve-year cycle of animals which appear in the Chinese zodiac related to the Chinese calendar. In religion and culture, the monkey often represents quick-wittedness and mischief.
View topic Monkeys
Badminton is a racquet sport, played most usually on an indoor court, in which players strike a strange object called a 'shuttlecock'. The shuttlecock is made using a rounded cork base into which sixteen overlapping 70 millimeter feathers are embedded. The feathers form a conical shape. Shuttlecocks made using real feathers are fairly costly and can be quite quickly damaged. A less expensive alternative would be to use a shuttlecock made from synthetic material, though most experienced players seem to prefer the feathered variety. The origins of the game can be traced back to Britain and British Colonial India in the mid-eighteenth Century..
View topic Badminton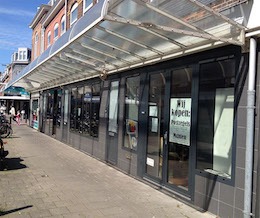 Welcome to our shop in Haarlem. Our hostess will welcome you with a cup of coffee. The opening hours are Wednesday to Saturday 10 -17h.
Haarlem is our headquarters. It is where owner Rob Smit began selling stamps in 1983. Over the years PostBeeld has expanded to include two adjacent buildings and now this is, with over 200m2, our largest store. Our headoffice is also situated in Haarlem. Here our websites are maintained and part orders from other locations merged into one and sent to our customers. The shop is located at 17 Kloosterstraat. A large public car park (Cronje) is a short walk from the store. Haarlem railway station can be reached on foot in 10 minutes. Our headoffice is located at Emrikweg 26B.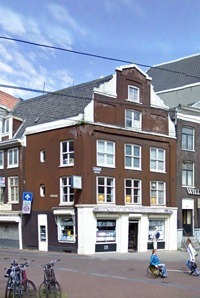 In Amsterdam we operate in close collaboration with the NPMH (Nederlandsche Postzegel en Muntenhandel). Opening Times: Tuesday / Saturday 10.00-17.00 (incl.)
The company's shop in Amsterdam (Opening Times: Tuesday / Saturday 10.00-17.00 (incl.)) is located in the historic heart of philatelic Netherlands. On the corner of the Nieuwezijds Voorburgwal and Rosmarijnsteeg, by the stamp market. Opposite the Amsterdam Museum, on St. Luciënsteeg, is the direct link to the Kalverstraat.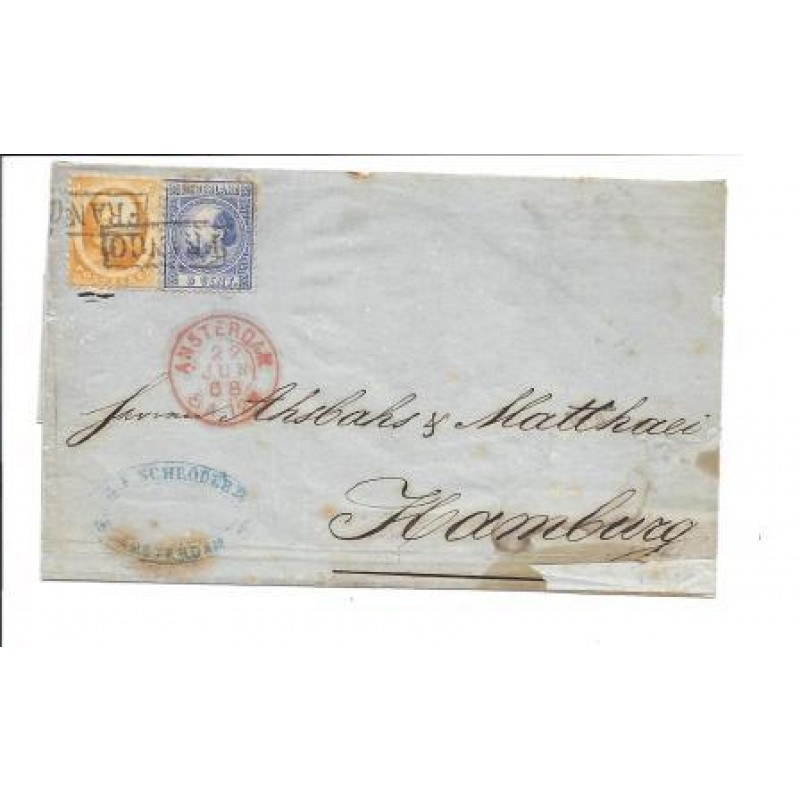 This store specialises in Postal History, coins, old postcards and stamps of the Netherlands and overseas territories, including cancellations. The postal history department is especially large with many special letters and postal stationery. Besides the specialities there is a large stock of stamps from many countries and always a nice assortment of collections. Furthermore, a range of albums, catalogues and other supplies for stamps and coins is available.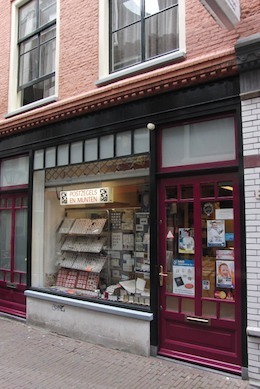 Welcome to our shop in Leiden, where Jaap is your host. The shop is open from Wednesday to Saturday (inclusive), from 10.00 to 17.00 (other days by appointment only).
De Leidse Postzegelhandel is one of the oldest stamp shops in The Netherlands, in business since 1941,and situated in Vrouwensteeg 3 in the heart of the old centre of Leiden. In October 2014 ownership transferred to PostBeeld, thus becoming the third PostBeeld store. The shop will continue to operate under the old name we respect so much with the addition of PostBeeld in the title to become "PostBeeld, de Leidse Postzegelhandel". Vrouwensteeg is a street off the Haarlemmerstraat.
In this shop you can find albums, storage systems, catalogues etc. Both new and second hand. There is always a good stock of stamp books, with prices from a few euros to those worth hundreds. These books can be viewed only in our store. Unlike the rest of PostBeeld's stock, they are not available to view via the internet. The shop also has a fine stock of coins and banknotes.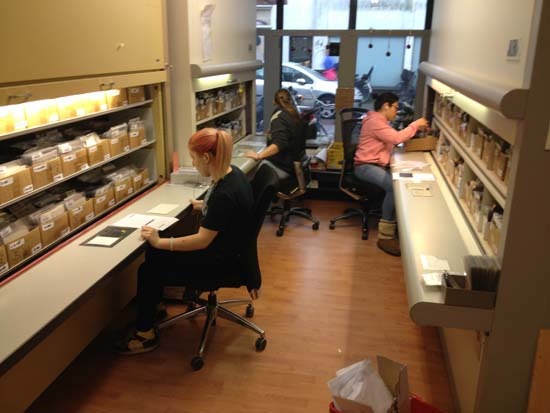 Behind the scenes we work with great care to process your order. At our Haarlem headquarters there is a lot of activity. About 25 people work here on two locations dealing with customer orders and administration.
Although our stock is held at around ten different locations in Europe, the Haarlem shop holds the greatest part of PostBeeld's stock and the purchasing department is also based here. If parts of an order are located elsewhere, everything is gathered together in our Haarlem office before being despatched to the customer.
Our translators and customer service department staff are also based in Haarlem. In the photograph above orders are picked from our stock. Below are some behind-the-scenes PostBeeld photos.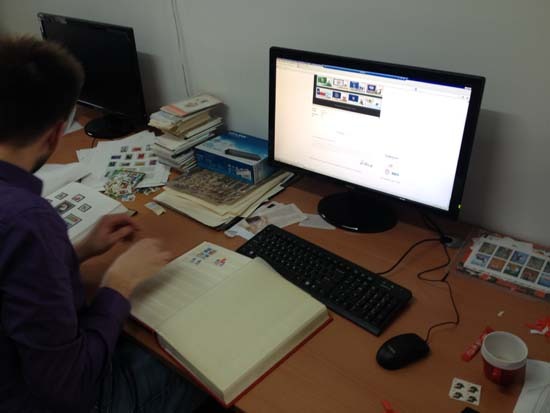 Processing a purchased collection.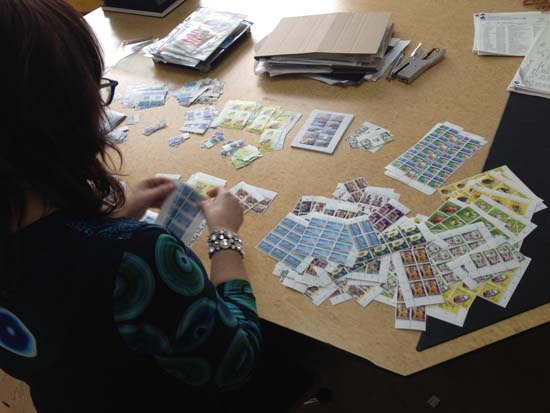 Processing new issues for subscribers in our online store.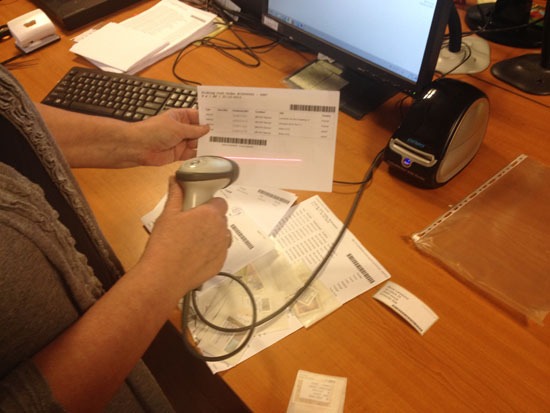 Checking that all partial orders are present is done via barcodes. They are then combined and shipped to the customer.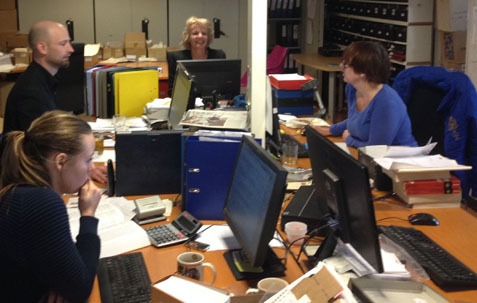 Here work is carried out on the website, translation and administration.