Added
272
items yesterday and
5073
over the last seven days.
169450

currently in stock
Harry Potter is the central character in a series of seven fantasy novels written by British author J. K. Rowling. The series describes the adventures of a young wizard, Harry Potter, and his friends Ronald Weasley and Hermione Granger, all of whom are students at Hogwarts School of Witchcraft and Wizardry. The books and films made featuring Harry Potter have been extremely popular with people of all ages.
View topic Harry Potter
Albrecht Dürer (21 mei 1471 - 6 april 1528) was a German painter, printer and mathematician from Nuremberg. The high quality of his wood engravings earned him a good reputation and influence in Europe. Dürer can be seen as one of the most important artists from the Northern Renaissance. He created altarpieces, religious paintings, portraits, copper engravings and wood engravings.
View topic Dürer, Albrecht
Jules Verne (1828 – 1905) was a French novelist, poet, and playwright best known for his adventure novels and his great influence on the literary genre of science fiction. He collaborated with publisher Pierre-Jules Hetzel to create the "Voyages Extraordinaires", which included the novels Around the World in Eighty Days, Voyage to the Centre of the Earth, and Twenty Thousand Leagues Under the Sea.
View topic Jules Verne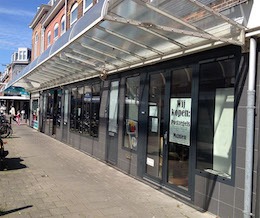 Welcome to our shop in Haarlem. Our hostess Sarah will welcome you with a cup of coffee. The opening hours are Wednesday to Friday 10 - 18h and Saturday 10 -17h.
Haarlem is our headquarters. It is where owner Rob Smit began selling stamps in 1983. Over the years PostBeeld has expanded to include two adjacent buildings and now employs more than 20 people at this location. Here our websites are maintained and part orders from other locations merged into one and sent to our customers. A great part of our stock is located here. The office is located at 21 Kloosterstraat. A large public car park (Cronje) is a short walk from the store. Haarlem railway station can be reached on foot in 10 minutes.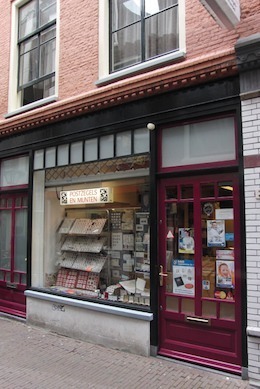 Welcome to our shop in Leiden, where Jaap is your host. The shop is open from Wednesday to Saturday (inclusive), from 10.00 to 17.00 (other days by appointment only).
De Leidse Postzegelhandel is one of the oldest stamp shops in The Netherlands, in business since 1942, and situated in Vrouwensteeg 3 in the heart of the old centre of Leiden. In October 2014 ownership transferred to PostBeeld, thus becoming the third PostBeeld store. The shop will continue to operate under the old name we respect so much with the addition of PostBeeld in the title to become "PostBeeld, de Leidse Postzegelhandel". Vrouwensteeg is a street off the Haarlemmerstraat.
In this shop you can find albums, storage systems, catalogues etc. Both new and second hand. There is always a good stock of stamp books, with prices from a few euros to those worth hundreds. These books can be viewed only in our store. Unlike the rest of PostBeeld's stock, they are not available to view via the internet. The shop also has a fine stock of coins and banknotes.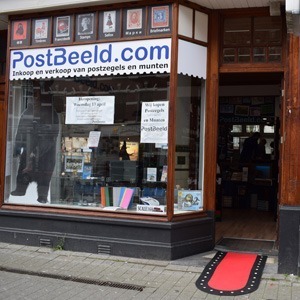 Welcome to our shop in Rotterdam. Here our hostess Ruth will welcome you with a cup of coffee. The shop is open from Wednesday to Saturdays from 10:00 to 17:00 (other days by appointment only).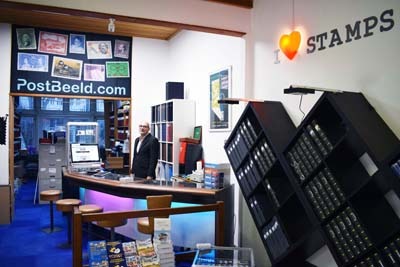 The store is situated at number 255a on the Nieuwe Binnenweg in Rotterdam. Originally opened as a stamp shop named Medo in 1963. In October 2012, PostBeeld owner Rob Smit acquired the business. Currently, PostBeeld's employees in Rotterdam number seven people and the operation is managed by Ruth Hofgren. The store is easily accessible. Tram 4 stops right outside the door (stop Claes de Vriese Avenue).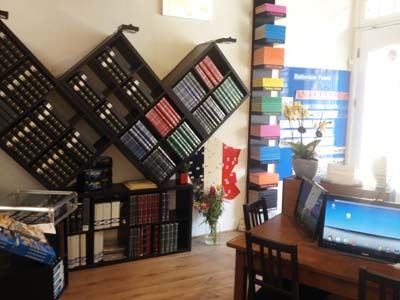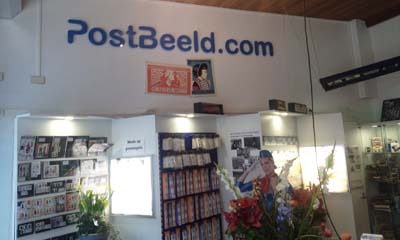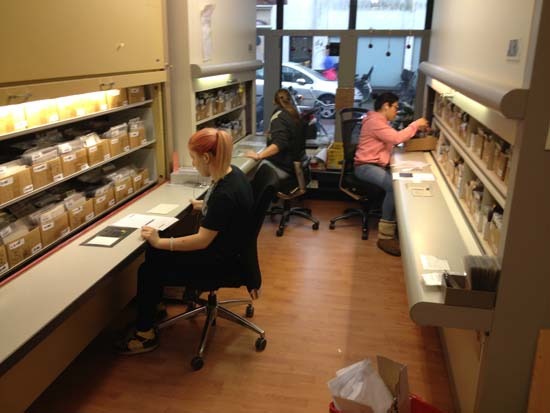 Behind the scenes we work with great care to process your order. At our Haarlem headquarters there is a lot of activity. About 25 people work here dealing with customer orders and administration.
Although our stock is held at around ten different locations in Europe, the Haarlem shop holds the greatest part of PostBeeld's stock and the purchasing department is also based here. If parts of an order are located elsewhere, everything is gathered together in Haarlem before being despatched to the customer.
Our translators and customer service department staff are also based here. In the photograph above orders are picked from our stock. Below are some behind-the-scenes PostBeeld photos.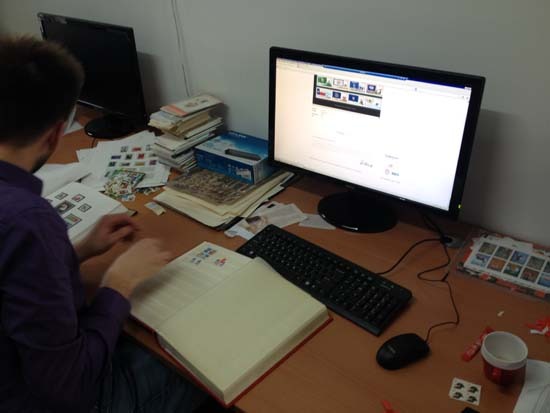 Processing a purchased collection.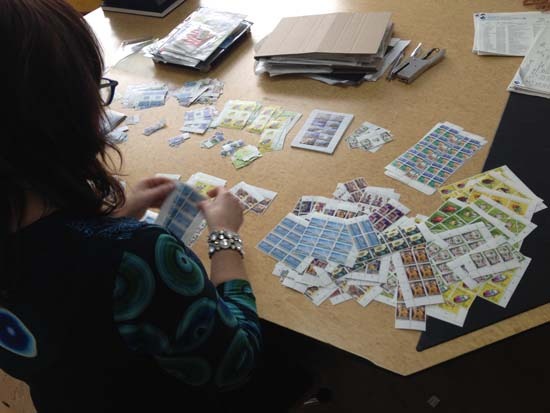 Processing new issues for subscribers in our online store.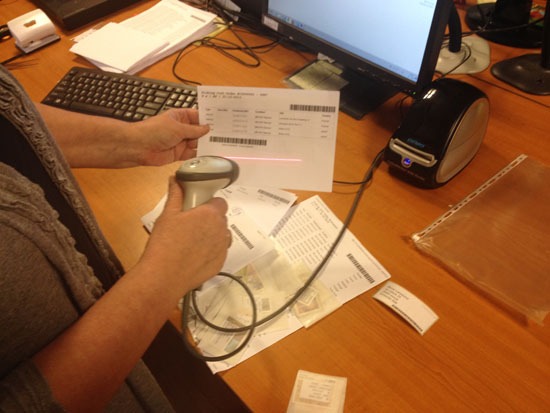 Checking that all partial orders are present is done via barcodes. They are then combined and shipped to the customer.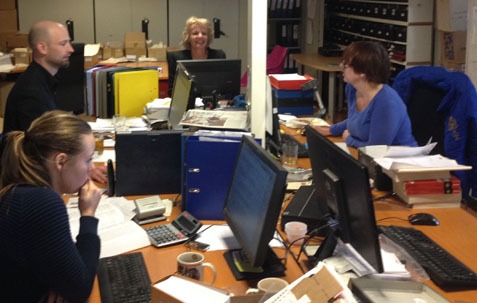 Here work is carried out on the website, translation and administration.